UPCOMING CONS

Confluence 2023 -- July 21 - 23, 2023
Sheraton Pittsburgh Airport Hotel, Coraopolis, PA

IndyFurCon 2023 -- August 24 - 28, 2023
Whyndham Indianapolis West, Indianapolis, IN

RECENT CONS

Anime North 2023 -- May 26 - 28, 2023
Toronto Congress Center, Toronto, Canada

Fur Squared 2023 -- April 6 - 9, 2023
Sheraton Milwaukee Brookfield Hotel, Milwaukee, WI

Motor City Furry Con -- March 24 - 26, 2023
Ann Arbor Marriott Ypsilanti at Eagle Crest, Ypsilanti, MI

Super MAGFest 2023 -- January 5 - 8, 2023
Gaylord National Resort, National Harbor, MD






NEWS OF THE CREW

Please raise a glass to toast our newest members, Margaret Bumby and Ari Passovoy. Welcome and congratulations. Shai Dorsai!

It is with great sadness that we announce the passing of Melissa Clemmer, DI. Melissa was inducted in 1982 and was a valuable and loved member of the Dorsai Irregulars. We will miss you with heavy hearts.


Welcome to our newest crew person. After working tirelessly for three straight days in the security office at IFC, the Dorsai banded together to adopt them raising $1175 ($1369 total with additional contributions from other con members) for the IFC charity Exotic Animal Rescue and Pet Sanctuary. Say hello to Oz the Security Dragon! Expect to see Oz at future conventions.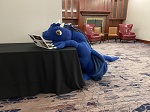 NEWS OF FANDOM
Anthony Aycock has published a wonderful article on our founder Robert Asprin and his Myth Inc books. The article can be found at https://www.tor.com/2023/03/28/looking-for-your-next-favorite-writer-dont-myth-out-on-robert-asprin.





SERVICES
HISTORY
TIMELINE
ROSTER
DORSAI SONGBOOK